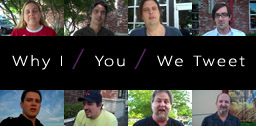 Twitter is everywhere
. You can't watch a news segment without hearing about Twitter at least once. The microblogging site/platform has taken off like crazy and it has gained many followers (no pun intended), as well as some harsh critics.
In its attempts to be more transparent, the U.S. government allows their
web
visitors to "
Stay Connected
" by including noticeable links to official government accounts on social sites like Twitter. In contrast, Twitter is one of many recently 
disabled
sites in mainland China, ahead of
tomorrow's
20th anniversary of the bloody Tiananmen Square crackdown. It is obvious that these two governments have very different views  and
very different reasons
for how and why they communicate with the public online.
Several companies are now widely cherished in the Twittersphere and even business leaders are opening up to it. In today's "
The Welch Way
" BusinessWeek column,
Jack
and
Suzy
Welch provided their reasons for tweeting. Aptly titled "
Why We Tweet
", it should be interesting even for the biggest skeptic to learn why one of the most widely recognized CEOs in American history is using Twitter and sticking with it.
From tweets coming from the womb and surgery tables (according this
New York Times
piece), to
Forrester research analysts
praising Twitter, everybody has a unique explanation. Twitter is indeed a simple tool, but
the reasons behind its widespread appeal are as diverse as the people using it
.
Here's a video
of people outside a restaurant in Dallas who told us why they tweet. Do us a huge favor and let us know why
YOU
tweet (by commenting below or sending us an
email
)!
* Special thanks to:
@digitaldoyle
,
@kitykity
,
@kylesteed
,
@deauxmain
,
@markramsey
,
@charlesmckeever
,
@wiredmonkey