It was my privilege to interview
Christopher Barger
, Director of
Social Media at General Motors
, this past Monday morning.
The
GM Social Media Team
took some time off their busy schedule to talk with me and I write about it on the paragraphs that follow. I also highly recommend that you listen to the interview by downloading our very first 
podcast
on
iTunes
or streaming it via
blogtalkradio
:
First of all, let me say that Christopher proved to me, over the course of our 30 minute conversation, that GM is serious in its efforts to engage in sincere communication with real people, particularly during the challenging phase in which the company is operating in. Christopher's openness and candor, combined with his deep insight and thorough knowledge of the auto industry, make him an example of how to lead a corporate social media initiative.
Now, I did not previously know Christopher or anyone in his team, but I felt as if I almost did by the time we finished talking. As you listen to the interview you will notice that Christopher answered each question with a combination of deep and simple thoughts that he conveyed with confidence, poignant honesty, vision, and passion.
General Motors
has been under deep scrutiny lately. The car company's recent bankruptcy is the largest industrial bankruptcy in American history. This is why the GM Social Media Team plays such an important role as the company pushes through in its attempt to transform itself.
Challenging as it may be, Christopher pointed out that this is an opportunity to "
move forward
" and "
do things the right way
."
What is GM trying to transform itself into? Christopher said that the new GM is "
resolute
" and "
very determined
" with cars that make up "
the best portfolio.. in years
."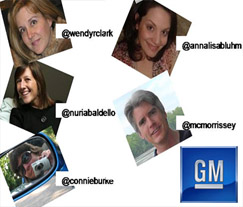 The Social Media team's role is "
primarily, to be the ears for General Motors.. to listen and interact with people
". The team, which was established 2 years ago, was started to build relationships with bloggers and has now shifted into "
being the public face of the company
" on the social web.
Christopher told me about the company's new direction and his team's efforts to reach more people. As social media has increased in importance, the entire organization has seen the value in the 2-way flow of information that was impossible only a decade ago. He assured me that GM has changed much in its approach to sharing information and engaging with people, which can be evidenced by the way the social media team has answered questions and concerns this past week, particularly on the day that GM filed for Chapter 11.
Christopher did not only stay in safe ground as he admitted that "
on a cultural level, there are a lot of things that need to be done
". He continued on to say: "
We acknowledge the seriousness of where we are and we know that we did this to ourselves.. whatever made sense 10 to 15 years ago doesn't work now. We know we need to change, and we are going to. We know we are not entitled to anything. We have to earn back every single customer... and we intend to do that
".
The GM Social Media Team wants to learn what GM needs to do "
to earn people back"
and they are using several different avenues to find out.
Facebook and Twitter are one approach. The 450 questions that were submitted in one of the recent webchats the company had with CEO Fritz Henderson, are another. Not only were several of these questions responded to during the time allotted to the webchat, but they also provided answers to as many people as possible and made sure that the questions were "
communicated throughout the company
."
It is that real-time feedback that has been proven to be so beneficial for so many companies. GM has learned much from being in constant communication with people, customers and otherwise, and they proactively try to "
listen and incorporate it back into the organization
."
"
Social media is not just an experiment.. it is no longer an option",
Christopher said to me. He added,
"whatever we're doing has to be customer-focused
". People expect GM, and companies across the board, to be real with them, to respond to questions, and to be accountable. "
No matter what your business is.. if you're not out here already
(in social media),
you're playing catch-up
".
Near the end of our conversation I asked Christopher about his biggest lesson learned in social media and he said the following: "
You have to be the real you, show a little bit of personality
". He pointed out the importance of revealing "
the human beings behind the logo, with willingeness to admit past mistakes in a credible manner
."
I had a good time talking to Christopher, one of the many people behind the GM logo. Please take a moment to read more about GM at
www.gmblogs.com
,
www.gmreinvention.com
and on Twitter at
www.twitter.com/gmblogs
---
This is our first Social Nerdia blogtalkradio show/podcast and we look forward to bringing you quality interviews and fun shows from now on.
We can only hope to have guests as interesting and thought-provoking as the GM social media team, and we will definitely improve the technical aspects of the show so please bear with us as we perfect our talking skills. You can provide us with your honest feedback on the comments section below or via
email
.