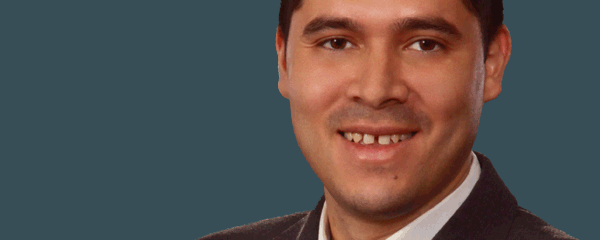 John Proaño is a Social Media Consultant for a leading global financial services firm. In this interview, John shares insights from his experience in the financial services and tech industries, as well as his thoughts on creativity, SoLoMo and the overall customer experience.
"The new connected consumer expects a lot more from financial services providers - and brands in general - than ever before."
Social Nerdia: How is the financial services industry, and the insurance sector in particular, making the best of social media while tackling the ever-complex regulatory landscape?
John Proaño: That's a great question Esteban. The financial services industry as a whole has a ways to go when compared to other industries. The main reason for the lagging progress is that compliance has very strict guidelines that can be very limiting and can make it very difficult to engage in social media. As a matter of fact, there are many financial services firms that prohibit their employees to use social media. Many of them are still trying to figure out how to allow employees to engage while still being compliant.
This highly regulated environment has created a market opportunity for middleware providers to deliver solutions that protect the company, and its social media participants. Companies such as Socialware, Actiance and Hearsay Social have developed platforms that provide a protected environment where rules are established by the company and participants are only able to engage at a level predetermined by the brand. Pre-approved content, moderation, and managed publishing workflows are all part of this software. I know this sounds very limiting, but it's one of the best ways that financial services companies can allow participation in social media while still adhering to compliance regulations.
Social Nerdia: Some would say that social media is bringing "sexy" back to insurance. What kind of value can a social media strategy unlock for brands in the financial industry?
John Proaño: One of the most valuable advantages of social media is that it presents a great opportunity for financial service companies to engage with customers on a one-to-one level. Never before has a technology had such great impact in the company-to-client relationship. This is an area where true ROI exists. Unfortunately, it's also very difficult to measure with existing KPIs and success metrics. A new set of success parameters needs to be defined, one that takes into account the benefits of building long term relationships that foster increased brand loyalty and creates new brand advocates. Other benefits of social media include increased branding opportunities, customer service, and recruiting and prospecting.
Social Nerdia: How has the financial services consumer shifted his/her behavior through emerging digital technology, and what should brands do to better understand a new generation of empowered consumers?
John Proaño: The new connected consumer expects a lot more from financial services providers and brands in general than ever before. They expect fast answers to their questions and concerns; they also expect a more authentic relationship with their providers. This to me is one of the major challenges that exists in the industry. As I stated earlier, financial services companies have to be very careful about what they say online. They also have very complex internal approval processes for content that can be published – hence the challenge of providing a speedy, accurate and compliant answer. There are steps that can help to speed up the process. However, this to me is an area of improvement within the industry as a whole.
According to a recent survey conducted by LinkedIn, only 4% of investors were interacting with their advisors via social media, yet an astounding 52% of them indicated they would like to interact with their advisors on social media. This is a huge opportunity for the industry as a whole to answer the call from their customers, they have indicated they want it – now we must deliver.
Social Nerdia: SoLoMo (social, local, mobile) has gained a lot of attention in the last couple of years. When do you think brands should seek to leverage the SoLoMo intersection in marketing?
John Proaño: I think the right time is now. Brands need to understand the value that social media presents in connecting with their consumers. Not only do brands need to connect with clients at a corporate level, they also need to connect at the local level, providing additional value and more relevant content tailored for the local markets. This local approach will provide far deeper relationships and greater benefits for both consumers and brands.
To me mobile and social go together like bread and butter, peanut butter and jelly or peas and carrots.. pick your favorite. One can live without the other, but together the overall experience is far greater. This is in essence what mobile and social provide. It's the perfect marriage of two technologies with global reach coming together to form the perfect match. Mobile needs to be at the core of every social media strategy.
Social Nerdia: Today's consumers are exposed to more marketing messages than ever before. What must marketers do to be effective amidst all the noise?
John Proaño: It's all about differentiation – understanding what provides more value for your customer. And It's not just the product or service that's important, it also includes how you deliver that product or service. It's the overall customer experience that will keep your customers coming back for more or will push them to the competition.
Social Nerdia: What are your thoughts on how creativity is balanced between brands and agencies today?
John Proaño: Great question. I could probably write a book on this one! In my 15 years of marketing experience, a collaborative approach has proven to be very successful. This is where a marketing expert at the brand level will provide the understanding of the brand's unique value proposition and the agency will provide their creative and digital expertise. This is the typical formula used by many companies today. However, I believe a far more powerful model exists when the brand also has a creative visionary that can lead the agency. This internal creative can provide the vision that will drive the creative direction at the agency while leveraging the agency's deeper pool of creative talent. This model is much more challenging to implement as most brands don't have creative talent that can match up with the agency, but it can lead to far greater results that are more targeted and closely aligned with the brand.
Social Nerdia: You're a big tech and consumer electronics enthusiast. How has your previous experience in tech prepared you for new challenges in social media marketing?
John Proaño: 13 years in the mobile technology space has helped me to understand the global impact of mobile and how it intersects with social. You can make a very clear connection of the parallel growth in smartphone adoption with the growth of social media. The two have basically fueled and propelled each other's growth. The value of mobile has been clear to me since the beginning, and that's why I have always been an advocate for creating a social strategy that incorporates mobile at its core.
Social Nerdia: What advice would you give to people looking to integrate their passion for creativity and technology in their careers?
John Proaño: I would suggest that they be persistent and flexible enough to adapt to constant change. It's very challenging to do, but in this environment where technologies are evolving at such a rapid rate, it's very important to not get too tied up with one technology – always remember that what's here today may not be here tomorrow.
Creativity is what will set you apart. There are many great experts that will understand technology inside and out, but there are only so few that can provide the creative inspiration to push the boundaries.
Disclaimer: Opinions expressed are personal and not of any company or employer.